Coolest Things to do on the World's Largest Cruise Ship
Videos
The largest cruise ship in the world, Royal Caribbean's Symphony of the Seas is the bucket-list-worthy vacation for all ages. Packed with thrilling adventures, delicious dining and jaw-dropping entertainment, it's the ultimate experience you won't want to miss.
Download Video
For editorial use only.
NTSC HD
PAL HD
PAL SD
CLEAN – NTSC HD
CLEAN – PAL HD
CLEAN – PAL SD
4×3 NTSC
CLEAN – 4×3 NTSC
Related Videos
PreviousNext
div" data-cycle-timeout="0″ id="related_videos">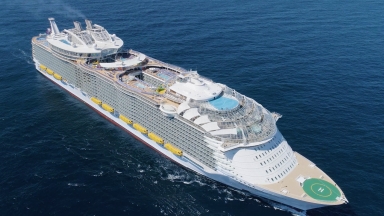 Tour of Symphony of the Seas
Watch a hyperlapse of the world's largest ship, Symphony of the Seas.
Royal Caribbean Reimagines the Boardwalk: Symphony of the Seas Features New Family Entertainment
Royal Caribbean is introducing two lively venues to its Boardwalk neighborhood on Symphony of the Seas. Guests of all ages will enjoy games and good eats at Playmakers Sports Bar & Arcade. Sugar Beach will satisfy any sweet tooth with an incredible selection of candy and ice cream, complete with tempting toppings.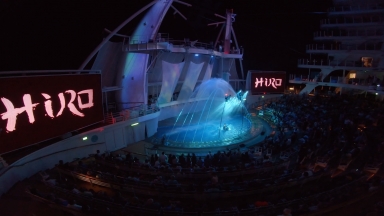 Dancing, Diving, Slacklining and 3D Flying: Symphony of the Seas' HiRo Raises the Bar
HiRo, Royal Caribbean's newest aqua show, features more high-flying feats, unexpected stunts and extraordinary acrobatics than ever before. Brought to life by the world's best extreme-sport athletes, HiRo pushes the limits of a theatrical production with cutting-edge technology and choreography. With 3D flying technology used by aerialists as they literally soar above the crowd, plus acrobats and professional divers no two shows are the same, making it worth seeing twice.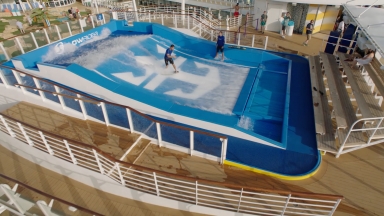 Surf's Up on Royal Caribbean's FlowRider
While cruising with Royal Caribbean, travelers looking for thrills can catch waves without ever having to leave the ship! Beginners and experienced surfers are able to hang ten by boogie boarding or standup surfing on any one of 19 FlowRider surf simulators in the cruise line's fleet. Pair that with great views and the ocean breeze, the surf is always up on Royal Caribbean ships.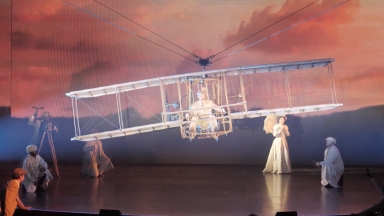 It's Showtime All the Time on Symphony of the Seas
Royal Caribbean continues to push the boundaries in entertainment with the debut of cutting-edge productions on stage, in the air, under water and on ice on board Symphony of the Seas.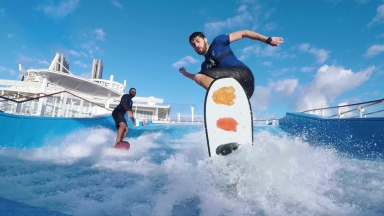 Symphony of the Seas Action Sports B-roll
B-roll of the Action Sports onboard Symphony of the Seas.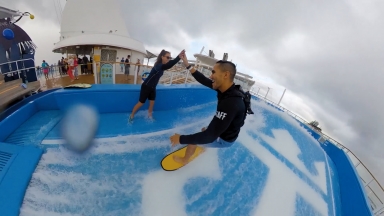 Carlos PenaVega Surfs on the World's Largest Ship
Check out Carlos PenaVega as hangs ten, onboard the world's largest ship, Symphony of the Seas.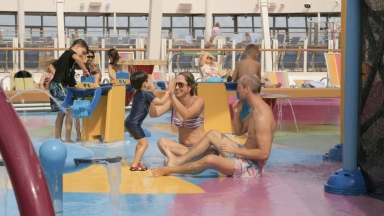 Take a Tour of the Family Adventures on Symphony of the Seas
Royal Caribbean International's new Symphony of the Seas is a "playground" for guests of all ages. From glow-in-dark laser tag, an escape room adventure and multistory waterslides, to the one-of-a-kind Ultimate Family Suite – featuring an in-suite slide, air hockey table and a private cinema – Symphony's collection of bold, new thrills make this TIME magazine "World's Greatest Places" winner the ultimate family vacation.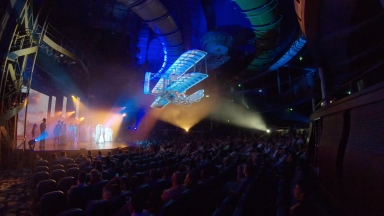 Taking Flight with Royal Caribbean's Symphony of the Seas: From the First Flight to Landing on Mars, Flight Takes Guests on a Sky-High Journey
Royal Caribbean Productions original, 'Flight: Dare to Dream' takes guests on a thrilling journey through time, chronicling humanity's fascination with flying – from the world's first commercial flight to Mars in the future to the Wright Brothers' monumental first flight at Kitty Hawk. Flight is set to make history as one of the most ambitious stage productions to date with the first theater set piece of its kind, the detailed design of Royal Caribbean's ISS was informed by Astronaut Clayton C. Anderson, who lived 167 days in space and completed 38 hours and 28 minutes over 6 spacewalks in two separate missions.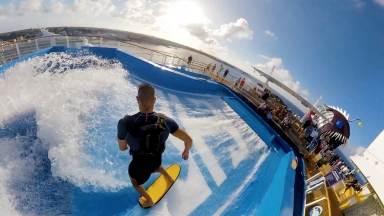 Take a Tour of Symphony of the Seas' Sports Deck
The sports deck on Symphony of the Seas is packed with adrenaline-inducing experiences. From the FlowRider surf simulator to the Ultimate Abyss – the tallest slide at sea, these features dial up the excitement and adventure for the whole family.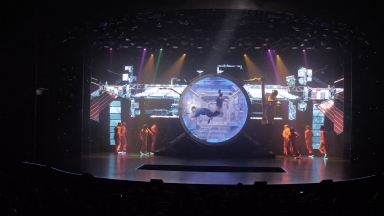 Symphony of the Seas Entertainment B-roll
B-roll of entertainment on Symphony of the Seas; Hairspray, Flight, HiRo, and 1977.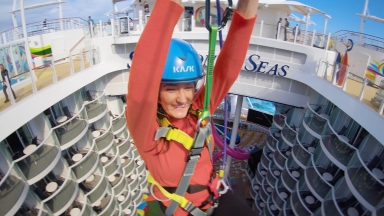 The Best Family Vacation at Sea
Royal Caribbean International's newest ship, Symphony of the Seas, will bring a new sound of adventure to Miami in November 2018. A playground for all ages, the world's largest cruise ship offers a lineup of exciting new thrills along with ways to unwind. From laser tag and waterslides, to "me time" at the spa and the one-and-only Ultimate Family Suite, the quintessential family vacation is reaching new heights.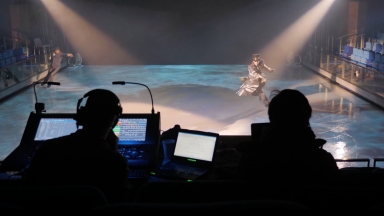 Symphony of the Seas Warms Up For Opening Night: Directing a Showstopping Lineup on the World's Largest Cruise Ship
With full-scale stage, ice, aerial and aqua productions on board Symphony of the Seas, high-tech and high-energy entertainment is at every turn. But what does it take to make it all come to life? Producing a lineup of shows befitting of the world's largest cruise ship takes plenty of time, dedication and rehearsal. From the AquaTheater, showcasing jaw-dropping stunts by acrobats and high divers against a backdrop of stunning projections, to a cast of 48 drones joining their human counterparts for ice shows in Studio B, watch as the team puts on the finishing touches to ensure that each show is ready for opening night.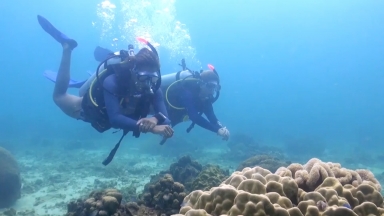 Discover the Adventure of Open Water Diving: Royal Caribbean Guests Enjoy a One-of-a-Kind Scuba Experience
Royal Caribbean is the only cruise line in the world to partner with the Professional Association of Diving Instructors® (PADI) to offer a full Open Water Diving course for guests on board. With classes done in the ship's pools and then an open water dive, guests can earn their certification during their 7-night vacation. Once the course is complete, travelers have unlocked an incredible new world of underwater beauty that they are now certified to discover on their own.